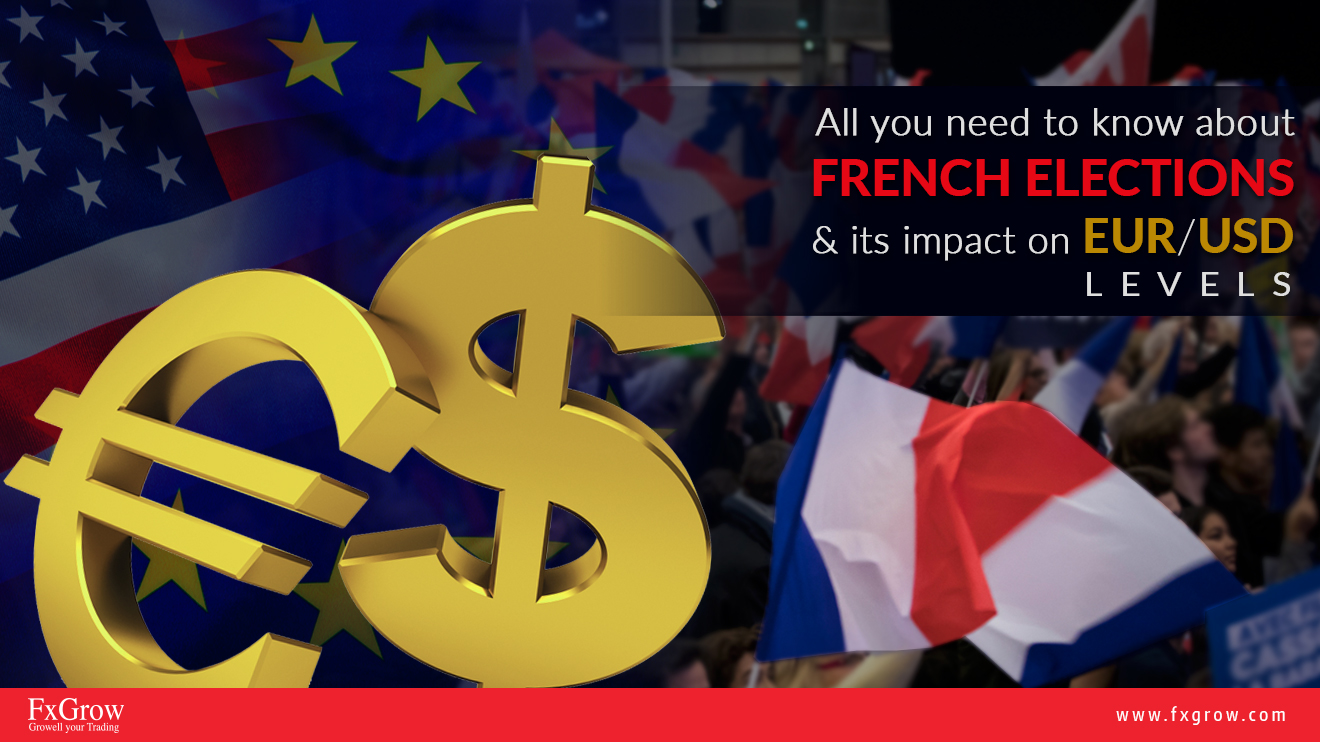 French elections are knocking on doors and bets are already placed by markets on every candidate and their agendas. Now, whoever qualifies for the second round, will have a huge impact on market despite the outcome. the race is tight, and on Sunday, 23rd of April, French citizens will elect two candidates out of four who shall be eligible for the next round on May the 7th. Although this may seem irrelevant, but market should pay attention that UK parliament will be dissolved on May the 2nd, and if both dates ( May 2nd & May 7th), combined together, market will be chaotic taking into consideration UK and France, two nations representing top ten markets contributing to global economy.

This election comes within a year of the unexpected Brexit vote in the UK and the election of populist Donald Trump as president of the United States last November.
In France, the possibilities are no less dramatic with the steady advance of the far-right National Front's Marine Le Pen taking advantage of recent threats and terror attacks on Europe.
Note: There are eleven French candidates running on April 23rd, but according to polls, it's more likely that the four candidates; Le Pen, Macron, Mélenchon, and Fillon being triumphed or qualifying for second round on May 7th 2017. In case one of the four nominees managed to secure more than 50% of French voters, then the second round on May 7th will be discarded and a winner will be announced.
First, let's identify the four French candidates and their agenda, after that, the picture will purify and how the market will head especially for the EURO coming future.
1- What does Le Pen want:
Negotiation with Brussels on a new EU, followed by a referendum.
"Automatic" expulsion of illegal immigrants and legal immigration cut to 10,000 per year following an immediate total moratorium.
"Extremist" mosques closed and priority to French nationals in social housing.
Retirement age fixed at 60 and 35-hour week assured.
2- What does Macron want:
€50bn (£43bn; $53bn) public investment plan to cover job-training, exit from coal and shift to renewable energy, infrastructure and modernisation.
Reimbursement of full cost of glasses, dentures and hearing aids.
Big cut in corporation tax and more leeway for companies to renegotiate 35-hour week.
Cut in jobless rate to 7% (now 9.7%).
Ban on mobile phone use in schools for under-15s and a €500 culture pass for 18 year olds.
3- What does Mélenchon want:
Voting from age of 16 and a "Sixth Republic" to replace the existing presidential system.
Constituent assembly to acquire greater powers, voted in by proportional representation.
Zero homelessness and full reimbursement for prescribed health care.
Recognize burn-out as an occupational disease.
Sharp-tongued Mélenchon galvanizes left.
Renegotiate the terms of France's EU membership
4- What does Fillon want:
To scrap half a million public sector jobs and the 35-hour work week
Removing the wealth tax (ISF)
To strip jihadists returning from the wars in Iraq or Syria of French nationality
Requiring parents in receipt of social allowances to agree to a "parental responsibility contract", to tackle children's absenteeism or behaviour "disrespectful of the values of the [French] republic"
Lifting EU sanctions on Russia and helping Syrian President Bashar al-Assad defeat so-called Islamic State (IS).
According to pollsters, 48-year-old Le Pen, an anti-EU candidate, is expected to qualify for the second round but ultimately lose to Emmanuel Macron, 39. A Le Pen victory would send shock waves every bit as seismic as events in the UK and US, likely spelling the end of the European Union in its current form. Her victory would also domestically test the country's already strained relations with its sizable Muslim community.
What will happen to EURO?
Now we have established the above candidates and their agendas, the main concern for traders and EURO future levels are whether France will stay in EU or depart. Le Pen and Macron are more likely to qualify for the second round, but that's not the problem. Le Pen ( Anti EU ) and Macron ( Pro EU ) will still commit to EURO bear and bull forces.
Scenario 1:
If Macron was on top and Le Pen second, optimism will arouse as France will still be part of EU cartel despite Le Pen qualifying for second round taking into consideration that Macron scored more votes which should boost and energize EURO facing U.S Dollar rival.
Scenario 2:
On the other hand, if Le Pen came first and Macron second, this indicates that Le Pen odds of heading the final round will more likely increase and the doubt about Frexit will start creeping into minds, which will result in EURO collapsing.
Scenario 3:
A qualification for Mélenchon will still support French EU membership although Mélenchon calls for a reformation between France and EU treaties, but has never called for a break from EU union.
Scenario 4:
Fillon (Pro EU) support France being part of the EU and calls lifting sanctions on Russia which should ease the tension between Europe and Russia, and this could result in economic growth for both countries as they both benefit and EURO could boost up on positive expectations.



Technical overview:
Market will witness high volatility for EUR/USD levels especially on Monday opening trading sessions due to the French election end results. EUR/USD bullish forces could hike towards 1.100 resistance level as optimism arouses given that France will stay in the EU. On the other hand, in case EUR/USD collapses, expectations of bearish trend could bottom at 1.0450 support level. Resistance and support levels could take time to be reached depending on the consequences of the election.
" Note: This analysis is intended to provide general information and does not constitute the provision of INVESTMENT ADVICE. Investors should, before acting on this information, consider the appropriateness of this information having regard to their personal objectives, financial situation or needs. We recommend investors obtain investment advice specific to their situation before making any financial investment decision. "