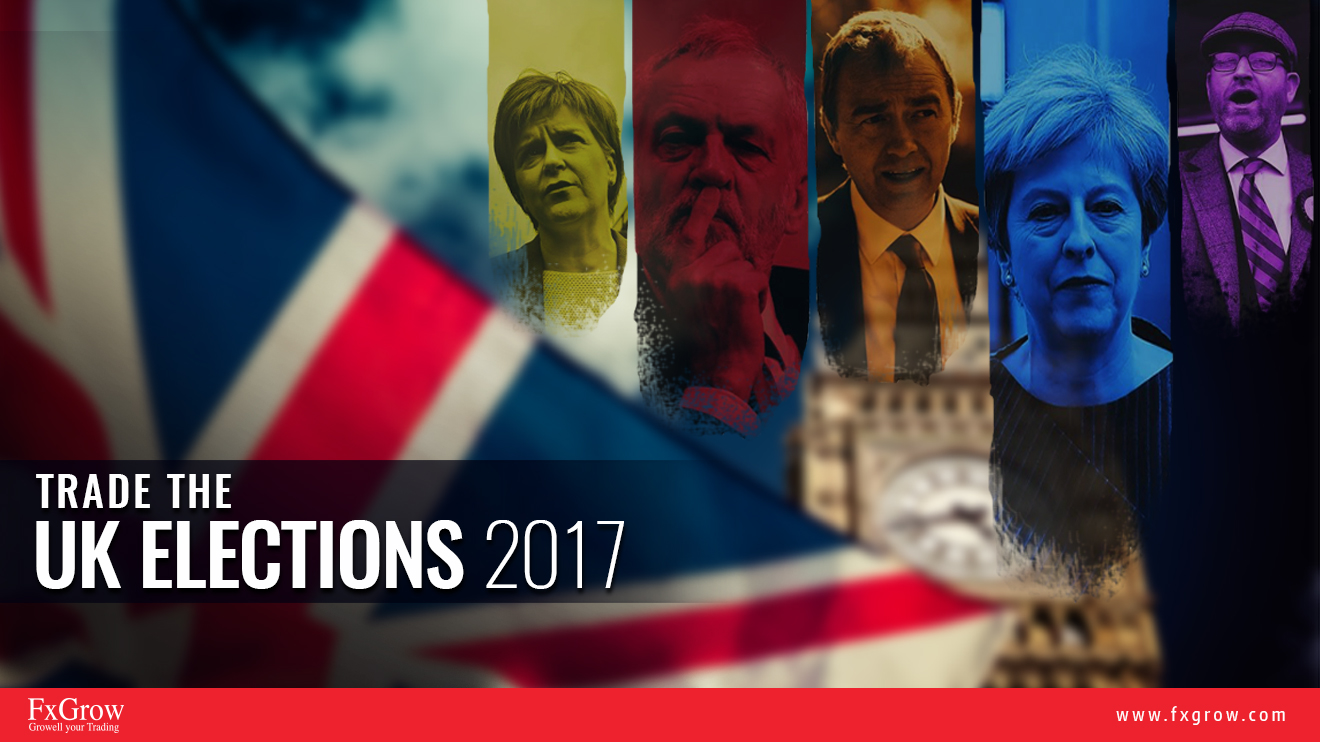 Thursday, June 8th 2017, UK election will take place and market will undergo sharp volatility with a reminder of how Sterling was a on chaotic ride between ups and downs during Brexit, but perhaps this time with less severe volatility, but there will be action in the market bringing opportunities for traders.
The latest general election polls indicates that the gap between Labour and the Conservatives has narrowed further still. As uncertainties are still hoovering without any clear signs on how final result could end. At such moments, gold (as safe haven) will be the greatest winner during UK election and today's sharp rallies are only a starter and it will prolong before and after the election take place depending on the final outcome, along with it GBP. Below are possible scenarios on what market should expect.
1- What Will happen if current PM May wins:
Although recent polls are thin between May and Corbyn especially after UK's terror attacks, the Conservatives are still more likely to win over the Labour and it's in the market's mind as forecast. The battle over number of seats in the Parliament is what will drive the market.
In case Conservatives managed to score more than 125 seats would be seen unexpected with a positive shock wave for the market and Sterling will be on a stand-by motion for 2017's highest record and UK stock market could bearish after collapsing by strong currency.
Markets are already expecting that May representing Conservatives, will collect a number between 70 and 125 seats, in case this scenario happened, expectations for market to stay put without adding anything new to an already anticipated result. In other words, the news is already expired.
Alternative scenario, in case PM May failed to add anything new, the reason for calling snap election is to increase Conservatives seats, market could take it as negative outcome sending selloffs wave and market could abandon GBP on failure of delivery.
Now in case the Conservatives failed to score above 70 seats. This to be considered negative for market and the British Pound could be tanked seeing 1.2500 potential, a ride from where the Sterling took after May called for snap election. Alternatively, UK's stocks will hike and increase in value.
2. What will happen if Corbyn wins:
Before we get to the results, let's take a brief outlook on what Corbyn holds in his agenda. Corbyn economic plan as a reform is considered old-fashioned and his tax plan proposed would send a message for potential investors as to think twice before committing to UK's economy.
There is no need to extend further more, but as a reminder, a negative shock wave will be dwelling in the market's head, along with it collapsing for Sterling which will take some time (long run) to overcome losses. Part of what happened during Brexit and the hard journey that GBP/USD had to bear to reach current level.


Note: During and after coming UK General Election, FxGrow will introduce:

1 -NO CHANGES IN MARGIN REQUIREMENTS

2- NO CHANGES IN MAX. LEVERAGE AVAILABLE.

3- FULL NEGATIVE BALANCE PROTECTION.




" Note: This analysis is intended to provide general information and does not constitute the provision of INVESTMENT ADVICE. Investors should, before acting on this information, consider the appropriateness of this information having regard to their personal objectives, financial situation or needs. We recommend investors obtain investment advice specific to their situation before making any financial investment decision. "