Join Our Introducing Broker
Program and Expand Your Business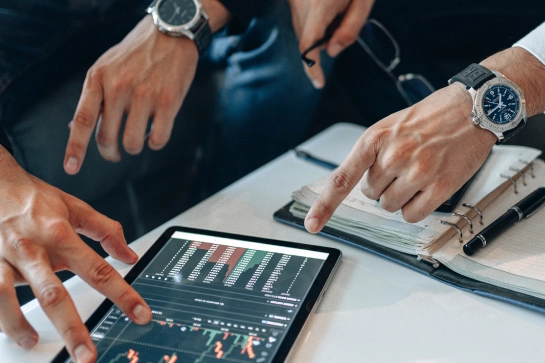 How Does FxGrow IB Program Work?
Simple Steps to Start Earning with FxGrow as an IB:

Earn commissions without any investment.

Monetize your expertise and insights of the financial market..

Tap into the potential of earning more from your network of traders.
What is an IB Program?
Our IB program allows you to earn commissions based on your clients' trading.

Volume-based income

Multi-level reward system:

Trust and partnership:
How Does FxGrow IB Program Work?
Simple Steps to Start Earning with FxGrow as an IB:

Share your unique IB tracking link with potential clients.

Your clients sign up using your referral link.

Once your clients open a live trading account, you start earning commissions.

When the first trade is closed, the commission is credited directly to your IB account.
Reasons to Choose FxGrow IB Program
Discover the Advantages of Joining FxGrow as an IB

Generate Great Income
Earn up to $25 per round lot as an IB with FxGrow.
Enjoy daily payouts and the ability to withdraw funds from as little as $100.- Get rewarded for every possible trade with no time restriction or pip limitation.
Any volume counts, ensuring you maximize your earning potential.
Your referred traders receive special promotions periodically, increasing their loyalty.

Absolutely No Limitations
Start earning from the first trade with no minimum requirements.
Earn commissions with just a low number of clients, no matter the trading activity
There are no minimum traded lots or trade amount obligations.
Your earned commissions never expire, allowing for long-term income growth.

Comfortable Interface
State of the art IB Portal.
All essential information displayed on main Dashboard.
Register in just 30 seconds if you don't have an account

Full Transparency in Reporting
Enjoy access to comprehensive client data updated in real-time.
View geo-location information, total rebate earned, total clients' balance, and much more.
Flexible filtration options and exportable reports in Excel or HTML format
Example of IB Commission
Understanding How the Reward System Works
Let's consider an example
In August, you referred two traders under your $8 per lot traded IB agreement
Trader 1 made 20 lots of EUR/USD.
Trader 2 made 16 lots of GBP/JPY
You will receive $160 from Trader 1 and $128 from Trader 2
In total, you earn $288 in August from just two traders
In November we reevaluated our agreement and increased the amount you receive per lot traded from $8 to $12
You introduced 5 clients who traded a total of 100 lots on EUR/USD
In total, you earned $1200 in November from your network
Best Way to Promote FxGrow and Maximize Earnings
Engage in discussions about your trading journey to attract interested individuals and share your personal experience.
Remember to avoid spamming as it can harm your reputation.
Place FxGrow banners on your website or blog to increase visibility.
Organize your own seminars and webinars to educate and attract potential clients.
Send personalized emails to your clients, highlighting the benefits of FxGrow
Share MT5 screenshots along with your referral link on social media.
Join our Introducing Broker program at FxGrow today and unlock the potential to expand your business while earning attractive commissions. Benefit from our transparent and rewarding IB program, along with the best practices to promote FxGrow and potentially maximize your earnings.